I had a lovely Easter weekend with my hubby and accomplished everything I wanted to.
Thursday
The weather was horrid with torrential rain from ex-cyclone Ita. Although there was a lot of rain, it was still quite warm too.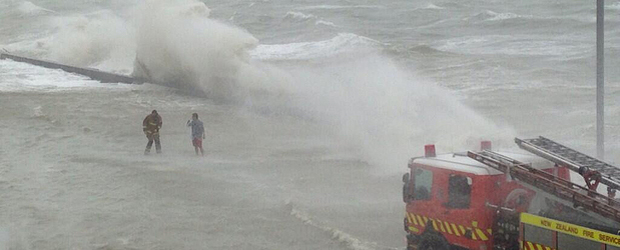 (More on the weather can be read in this article on the NZ Herald website >
http://bit.ly/1nn0iy1
)
Thankfully it had cleared up in the afternoon and it was quite sunny again when we went to our ice skating lesson - the last one of this term. I got to test out my new skates and my instructor was very impressed that I had got such new skates for a bargain price. I got my skates on trademe and they had only been worn about twice.
My first steps on the ice with my new skates were marvelous! But after a short time they began to feel a bit tight around the width of my foot. I had previously baked my skates in the oven and I think that really helped since I didn't have any issues around the ankles and at the end of the lesson I didn't have any blisters but I think it will take a few more wears before they stretch out more at the toes. Before my next skate I think I will make 2 rice bags, heat them in the microwave and put them in my skates to see if heating them before wear will help.
Friday
We had a relaxed day spending lots of time together then in the evening we went to the
Easter Show
. I had been really looking forward to the carnival and wanted to go into the Haunted House and then eat a toffee apple. We had a look around and watched people playing some of the side show games then we went into the haunted house it was not so scary but it was fun.
One of things I had been really looking forward to was a toffee apple! I had been craving one for weeks. The first stall I went to was all sold out! I panicked, but thankfully we found another stall that had them and I was a very happy bunny :) I munched on that while we wandered around the arts and craft stalls and then into the farm animals section. We saw some lovely animals and some super cute yellow chicks and ducks. We saw some Alpacas but since I was eating I didn't pet any of the animals. There were some spinning wheels and a stall selling alpaca yarn and goods.
We passed the main stage and decided to have a go on a ghost train - the imagery and strobe lighting made for a thrilling experience and I was keen to give the other ghost train a go to see how it compared. We made our way to the other one via the market place where I very nearly bought a Maple Leafs hockey jersey. The second ghost train was a much better ride with bumps and jolts but didn't have as scary imagery as the first one but the spray of water took us by surprise at the end and we exited laughing and wiping water from our faces.
By this time the fireworks were about due so we took a seat on the grass and watched the fire dancers on the stage before the sky was light up in a lovely display. A perfect end to a perfect day.
Saturday
The day was mostly spent pottering around before heading out to
Waikaraka speedway
for the Easter Spectacular. We watched midgets, sprints, super stocks, super saloons and derby cars. The different types of race cars were really interesting and some of the races were closely contended.
Then there was a big fireworks display before ending with the demolition derby.
The demolition derby was really funny as car after car packed in, it did have to stop part way through so that a car on fire could be dealt with but then it was back to the action.
At the end, the winner got out of his car to receive his trophy and was wearing a purple onesie - it made me laugh!
Sunday
I managed to get my game on a little bit on Sunday before it was time to be social and we went to a friends house to watch a couple of movies. We watched Pacific Rim and then Enders Game. I've recently read the book and was keen to see the movie and I enjoyed both.
A small side note: Orson Scott Card is the author of the book and co-producer of the movie and I strongly disagree with his homophobic beliefs. Sometimes it is difficult to separate the work from the person and I did not want to financially support him. In this particular case I personally did not have to pay to read the book or watch the movie so have avoided the issue this time.
Monday
From morning 'til night I was encapsulated in my own world playing a computer game, hubby was in another room doing the same thing and I think we only said about a dozen words to each the whole day!